Siemens E 303 (E 305, E 306)
Shortwave Communications Receiver
Single Conversion Superheterodyne
10 Tubes + Semiconductors
Made in West Germany 1952-1957
Specifications
Coverage:
1.5 – 3.2 / 3.1 – 6.4 / 6.1 – 10.3 / 9.8 – 15.3 / 14.8 – 20.2 / 19.8 – 25.2 /
24.8 – 30.2 MHz / 230 – 530 kHz in addition as an option
Modes:
AM/CW/MCW
Antenna Input:
HF 4/13 60 Ohms unbalanced and long wire
Sensitivity:
CW: 0.2 µV 6 dB S/N, AM: 1.6 µV 10 dB S/N
Setting & Read out:
<5 kHz via nonius between 50 kHz marks
Selectivity:
variable 0.3-5 kHz –6 dB,
Formfactor -6/-60 dB: 1:4 at 5 kHz bandwidth
IF:
1326 kHz
IF Rejection:
60-90 dB
Image Rejection:
>60 dB
Audio Output:
2 W/4000 Ohms
Voltages:
110/125/220 V AC +/-10% 40-60 Hz, 65 W and 220 V DC +/-10%, 85 W
Physical:
560x368x422 mm, 43 kg
Accessories:
FSE 2 for FSK, FSE 7 or T 40a for Fax, vibrator for 24 V DC and 110 V DC
Features
- Headphone Jack (2)
- Speaker
- Speaker Switch
- BFO +/- 3 kHz
- NL
- RF Meter
- AGC/MGC
- RF Gain
- Calibrator 1 MHz
- Dial Lamps
- Calibrated Dial
- Flywheel Tuning
- Fine Tuning
- Tube Checker
- Rack Handles
Circuit Complement
Tubes + Semiconductors:
1x EF 85 (=6 BY 7), 2x ECH 81(=6 AJ 8), 1x ECC 81 (=12 AT 7), 4x EBF 80 (=6 N 8), 1x PCL 81 (= 16 A 8), 1x STV 100/60 Z II (regulator 100 V/60 mA), all tubes can be checked by the meter, germanium rectifiers for RF meter and NL, selenium rectifiers in power supply.
Tuning:
Big coil turret, four ganged capacitors in RF circuits, very reliable and smooth gears for tuning by a flywheel knob 120:1. The knob can be pulled for 10:1 coarse tuning.
Crystals:
1x 1000 kHz for calibration, 2x 1326 kHz in IF filter banks
Dials:
Individually calibrated dials with 50 kHz marks, linear scale and nonius on pointer for interpolation. If positions are registered in a logbook, setting accuracy is about 5 kHz.
Comments
As a descendant of WWII receivers like Lorenz "Schwabenland" or Telefunken H.E."Caesar" (coil turret, IF filters) this receiver became necessary when West Germany was reintegrated into the world market in the late forties. It was used by different government authorities and on ships. Some of these receivers were exported to Belgium and France. Competitors were Hagenuk UE 11, Lorenz E 5 and Telefunken E 127 Kw. The shape of the selectivity curve doesn't fit today's needs.
Variants
The E 301 is the first version (1952). The E 303, E 305 and E 306 (1953) are about the same with different power supplies covering 1.5 MHz – 30.2 MHz in seven ranges. The eighth compartment of the coil turret is not in use normally. An additional frequency range of 230 – 530 kHz and a vibrator for 24/110 V DC were available as an option.
There is also a model E 307. The precise differences to the E 303 are unknown; the faceplate looks about the same. The E 307 however has different frequency ranges: 1.5 – 3.0 / 3.1 – 4.6 / 6.2 – 6.5 / 8.1 – 8.8 / 12.2 – 13.3 / 16.2 – 17.4 / 22.0 – 22.7
Note that the E 302 is a relabelled former E 66a (1948) for marine applications. It is electrically and mechanically quite different and has a long linear dial.
Block diagram of the E 305 (click to enlarge).
Top view of the E305.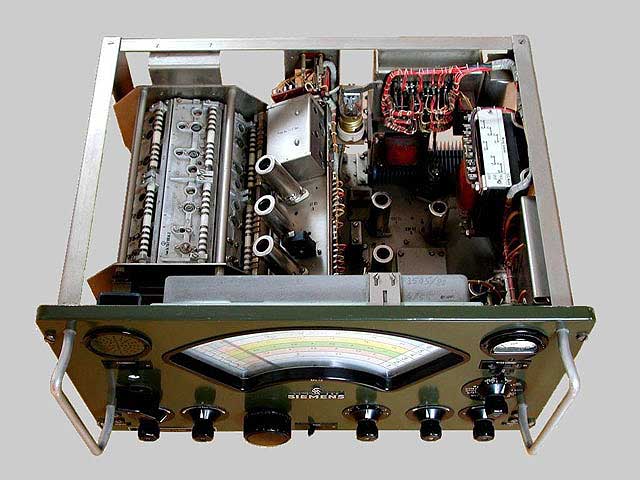 The following photo shows the E 305 (rear) together with an E 566 (front) in use on board of the Ocean Liner "Bremen" (Callsign DDQP).

The Ocean Liner "Bremen".